Psp 7 Lettering with Gradients
| | |
| --- | --- |
| | Brought to you courtesy of |
| | |
Learn to make this type of lettering in about 5 minutes...Just follow the instructions and screen shots below. (o: Good Luck :o)
In this tutorial you will learn to make lettering like this:
The following things need to be adjusted on your writing tool: which looks like this on PSP 7:

Ok, you need to make sure you have checked only these two things:
The color you choose will not matter since you will be covering it with a gradient.
You don't want a border? That's ok Just look for the *standard text* button and click it.

This is with border.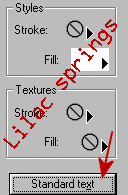 This is without..see how the stroke color is gone?
Now it's time to change from solid to gradient.
Click on the little black arrow on the color box (img. 1)
Then click on the gradient tool (img. 2)
Next you will be picking your gradient.
Click on the gradient box and then on the side bar as show here:
PSP comes with many to choose from. I have chosen to use the same one on both the stroke and fill, but combining them makes the lettering more interesting and fun!
Once you have written what you want your banner to say
it should look like this:
With the little *ants* around it.
If it doesn't look like this...hit undo and start again..make sure the FLOATING and ANTIALIAS options are checked.
Using the inner bevel option
This is actually so easy you will laugh!
#2...Down to 3D effects (on PSP6 this is just under effects)
#3.....Choose inner Bevel
I like to use it on 15 for large letters
and even 2 on smaller..you get the point right ?
Do This TWICE for a more dramatic effect:
(I have repeated this step twice to get this effect)
Here's a little gift for you from me :o) for having been such a good student! *BUT* only take it if you have learned to do this from this site..and give a link back to this tutorial
http://members.fortunecity.com/anivelis/bevels1.htm
*please*, so that others can learn too!
(It cuts explaining time down to 5 minutes! ) LOL
If you would like to learn:
To learn to make this cool award CLICK HERE. **soon**
To make your own tutorial please CLICK HERE. **Soon**
Have a question? Need More answers?
Send me an email! with the Subject TUTORIAL HELP.
Copyright: © Jan. 2001 Anna Castillo
Thanks for respecting my work. Do not link, remove anything, or blow your nose too close to the speakers, anywhere on this site. :)