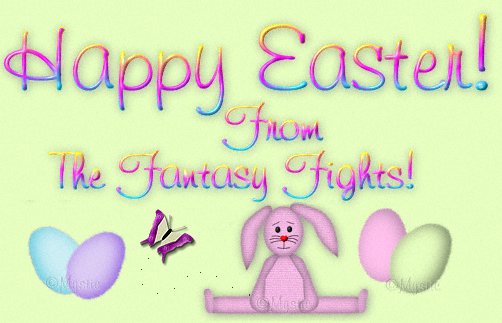 ~Welcome~

Thanks for dropping in!
What is the Spread a Little Sunshine Campaign?



It's a new thing we have started around here, a world wide friendship campaign! It's an idea that grew from the many friendships we have made here at The Fantasy Fights and we have decided to share some of our sunshine with others!

When we think of emails, some of us look forward to reading something from those unknown faces we have met online. Jokes, stories, problems, whatever comes from our *online* friends interests us, and we even tend to love and care more about our online friends than our *real life* friends. Think about it...when was the last time you made a good friend?

If you're anything like me and the people who work here, the last good friend you made was online, through a chat, vote exchange, or even something as simple as signing a guestbook. Our whole point with this new program is to reach out to everyone, by signing their guestbooks, leaving a nice graphic and linking it back to a *sunshine* page. This campaign will run as long as people are in need of smiles.

With so many tragedies going on in this world, and so many people opening their hearts to support sad causes, we have decided to ask you to support a *happy* cause. There are many people who use websites as a way of remembering loved ones who have passed away, don't you sometimes wish there was *something* you could do..besides sign their guestbook and say "I was here...sorry for your loss"? Do you sometimes find youself saying "Oh I have to make something for this person and come back and leave it on their guestbook", but then time passes by and it never gets done?

We have come up with a simple solution, for all web surfers, whether you're part of the Fantasy Fights or not. What we ask is that you take the current month's graphic, upload it into your server (to be able to leave in guestbooks), and if you use it..we ask that you leave a nice message and link it back to the Sunshine page which is: http://www.webcompetition.net/~holidays/sunshine.html
So that when they click on it they will read this month's current sunshine message.

Every month we will have a different campaign, holiday related, but there will be something for everyone, Our caring Fantasy fights Sunshine campaing Members will get a special *Member Graphic*, for each month they wish to participate in this program. Also, those wishing to participate, should submitt URLs to the sites they have *Spread a little bit of Sunshine to*, so that we may pass them on and other members may visit as well. Wouldn't it be great if someone visited you and said something nice...and then you discovered a whole group of people who are out to make you smile?

Members who spread the most sunshine for a month will get a special holiday Coffee Mug, to remember the month they made the most people smile. Now I know this isn't a big expensive prize, but the friendships you make along the way will be worth more than all the gold in the world.

So what do you say? Are you ready to spread some sunshine? You DO NOT need to sign up if you would just like to use the graphic whenever you visit someone, only if you would like to be included in *Members Only* activities, like guestbook parties, birthday parties, prizes, gifts, and even Real Life Reunions! We do ask that those interested in participating in special activities, please use the form we have provided HERE, just to let us know who you are and that you believe in spreading some sunshine too!



Click on this month's banner to go to the Sunshine Page.
You may pick up your graphics there.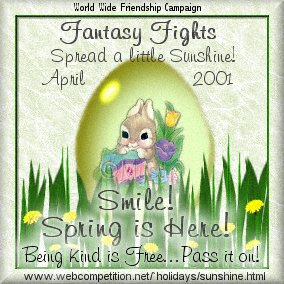 :::HOME:::: ::::EMAIL::::



"Spread a little Sunshine Campaign"
Founded by Anna Castillo,

Graphics, ideas, and HTML is
© 2001-2011 by Mystic
for The Enchanted Garden, The Fantasy Fights

**If you would like to join us in the effort to unite people world wide please email us for WRITTEN PERMISSION and more info on how to open up your own Sunshine Chapter. This program is copyrighted and may not be copied, stolen or used for anything other than it's original purpose.



Disclaimer:
&COPY 2001 A. Castillo, founder
Founder retains the right to move the program into another site, should the need arise, in which case, Fantasy Fights will retain a special chapter to continue their *Sunshine* work, while their doors remain open for the good of all who need to smile.